SOMA Agricola
Completed summer of 2013, the new home of the SOMA Vein & Laser Centre is located at the epicenter of Agricola Street's revival. The renovation provides 1200 square feet on the main level for the new centrally located clinic. Above, the modern two-bedroom apartment maintains the street's two storey datum lines, while providing an urban alternative to the clients' suburban home.
SOMA's playful facade feeds off the character of the neigbourhood with its bold injection of colour. Precedents like the Four Sisters, enVie and Gus' Pub inspire this modern take on the colourful personality of the street. Bright green LEDs light the storm door's signage and animate the adjacent area, allowing the elevation to pour out over the sidewalk.
Deep fluorescent green window ledges offer a simple nod to the modern. A subtle difference in outer and inner colouring creates the illusion of a constant luminance emitted from the building. The narrow perspective of the street allows the otherwise paper-thin extrusions to appear thick, in keeping with the box frame windows of the old Scotiabank building adjacent to the property.
At the street, the waiting area is drenched in sunlight and activity. The outer layer of public spaces receives daylighting - rare for such a narrow urban lot - while inward treatment rooms benefit from privacy and seclusion. This layout allows a transparency that draws curiosity and interaction from passers-by, while maintaining the utmost discretion for SOMA's clients.
In the treatment rooms, a rigorous design simplifies the complex and delicate nature of clinical procedures. The sequence of motions, equipment, and the nurse's corresponding routine are all taken into account to minimize crossover and optimize the space for a fluid and efficient performance.
The minimalist interior strikes a perfect balance between the crisp cleanliness of a clinic and the refreshing calm of a spa. Clean details and layout allow the complex to seem simple, while warm finishes like bamboo flooring and surfaces harbour a sense of relaxation.
The architect's design for the SOMA logo is drawn from the triangulated geometry of the front facade window layout. This simple design transcends disciplines to bring together a holistic brand for the new clinic.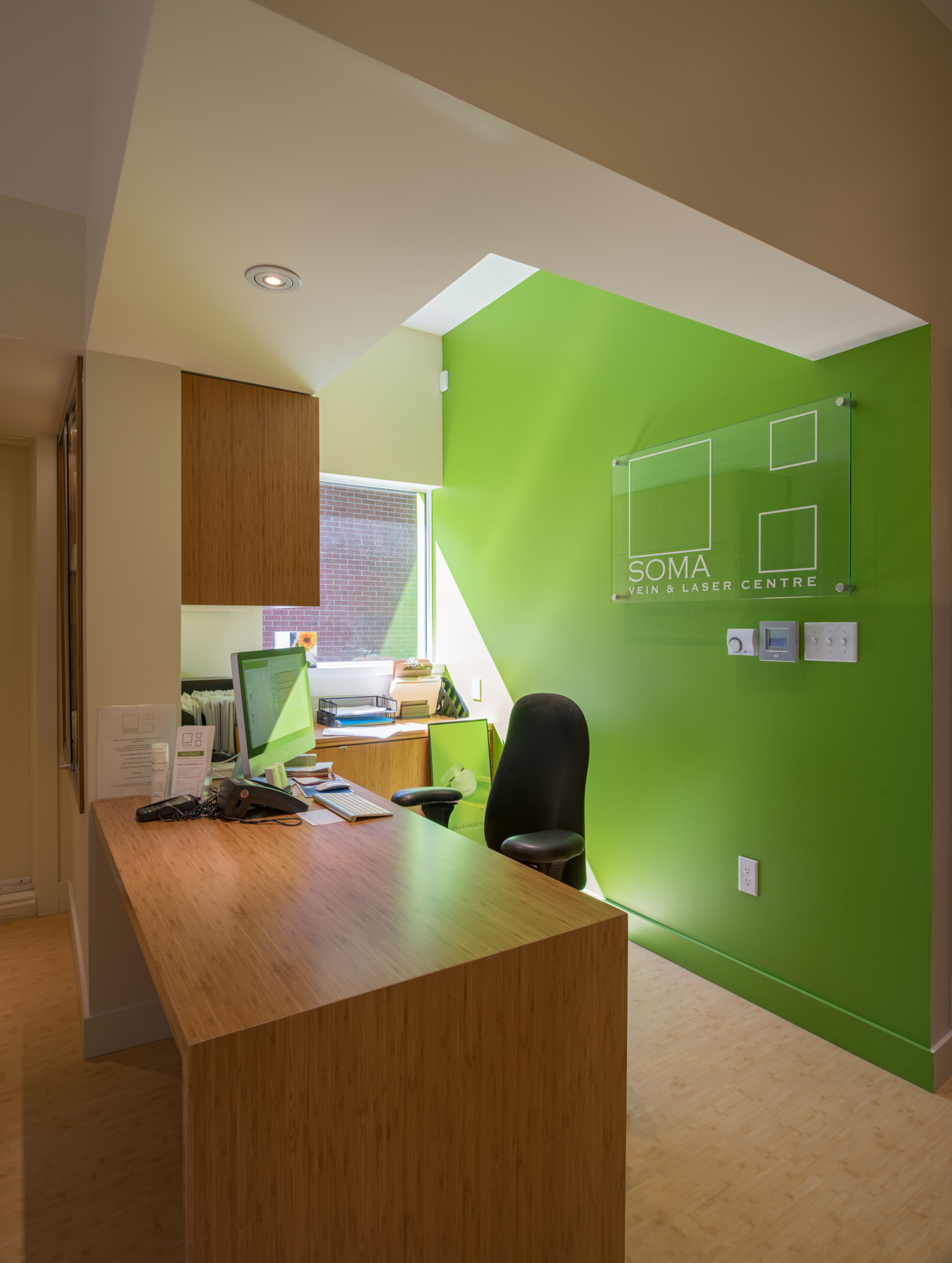 SOMA